Tickets are no longer available online. If you're interested in attending the event please contact Sales Director, Julie Lenner at jlenner@allstars.org or 312-994-3101.
For 10 years, the All Stars Project of Chicago has brought growth opportunities to young people and adults living in our poorest communities. Our programs use the developmental power of performance to bring people together—affluent and poor, successful and struggling, young and old, Black, White and Latino—to grow.
We call our approach Afterschool Development. In our programs, business leaders, young people and caring adults partner to connect Chicago's poorest youth to the professional, cultural and civic life of our city.
Afterschool Development is being championed by forward-looking corporate leaders across our city. Brian McAuliffe, Art Rendak and Joe Greenwood are dedicated to forging genuine pathways of opportunity for inner-city youth. We are proud to honor them this year.
Join us on June 16 as we celebrate our 10th Anniversary in Chicago and unveil plans to reinvest this growth into our city by Connecting Communities Downtown.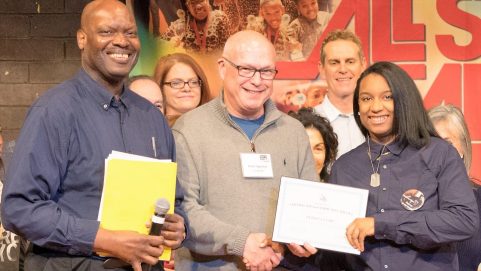 Help set the stage for a young person to grow.