Join us on Wednesday, December 4th for A Night of Shining Stars!
Hosted by the Turnaround Management Association (TMA) and Hilco Global, this celebration and premier networking event at the Adler Planetarium will benefit the afterschool development programs of the All Stars Project (ASP) of Chicago.
A Night of Shining Stars will shine a light on the "stars" of Chicago in the turnaround and restructuring community, and on the young people from the south and west sides of our city who participate in the innovative, performance-based programs of the All Stars Project.
The evening will honor two outstanding professionals – Suzanne Koenig (Founder and CEO of SAK Management Services) and Patrick Nash Jr. (Partner at Kirkland & Ellis) – for their leadership and contributions to the turnaround community in Chicago.
We also look forward to highlighting the work of ASP of Chicago, which features the All Stars Talent Show Network, where young people perform in and produce talent shows in their own neighborhoods—and where everyone can shine like a star! ASP of Chicago also provides business and leadership development programs through the Development School for Youth, where the culmination is a paid summer internship in one of Chicago's leading corporations.
The All Stars Project's afterschool development programs are 100% privately funded through individuals, corporate partnerships and foundations.
We look forward to raising a glass with you at A Night of Shining Stars on December 4th!
2019 Night of Shining Stars Sales Packet
Click here to see other companies who have already stepped up with their support for the event!
For questions or additional information contact sales director Lauren Horn at lhorn@allstars.org or 312-994-3107.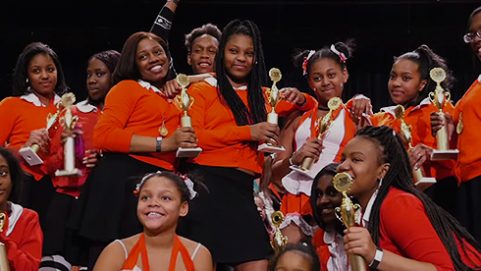 Help set the stage for a young person to grow.