Mayor Baraka and All Stars Project to Expand Operation Conversation: Cops & Kids
Published by lhorn@allstars.org
New approach pioneered by Dr. Lenora Fulani to be implemented by the City of Newark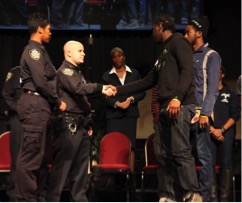 Mayor Ras Baraka, having returned from a White House meeting on police community relations, committed the City of Newark in conjunction with My Brother's Keeper Newark to expand the city's police community relations strategy through a partnership with the All Stars Project. The partnership will bring "Operation Conversation: Cops & Kids" to neighborhoods across the city.
"Nothing is more important to our city and our nation than building trust and creating a close and working relationship between the police and communities of color. Operation Conversation: Cops & Kids is an important instrument in building that trust. It is an innovative grassroots program and a nationally recognized model that is making a profound difference in the lives of young people, our communities and police officers. We need to both protect our children and effectively police our neighborhoods," said Mayor Ras J. Baraka. "We are proud to partner with Dr. Lenora Fulani and the All Stars as they bring together kids and cops in Newark to create new relationships."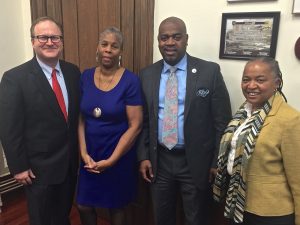 Operation Conversation: Cops & Kids (Cops & Kids) was created by ASP's co-founder Lenora Fulani, Ph.D., a developmental psychologist and grassroots educator, in the aftermath of the 2006 police shooting of Sean Bell in Queens, New York. Community workshops use performance, improvisation and conversation to help teenagers and police officers build trust and create alternatives to how they usually interact with each other in the community. The New York City Police Department (NYPD) now has all Police Academy graduates participate in the
program. Dr. Fulani and the program were recently awarded the Cisco Award for Community Policing by the International Association of Chiefs of Police.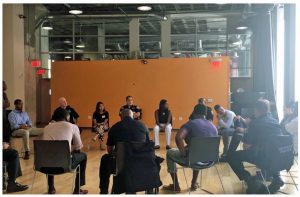 "After the tragic events in Minneapolis, Baton Rouge and Dallas, attention must be paid to the models and approaches to police community relations that have the trust of both sides," said Dr. Fulani, who met with Mayor Baraka in February to discuss the outlines of the program. "We recognize that the antagonism between the police and youth in poor communities are real and dangerous. At the same time, we recognize that cops and kids share many things in common – they often come from similar backgrounds, they leave their house in the morning not knowing whether they will make it home at the end of the day. We have discovered a way to use performance as a tool to break down barriers and to be able to see the 'other' in new ways."
The first Cops & Kids workshop in Newark took place on June 30th at All Stars Center for Afterschool Development at 33 Washington Street in the Central Ward. Monthly workshops are planned between now and the end of the year.
In addition to its partnership with NYPD and City of Newark, All Stars is partnering with the Dallas Police Department (DPD) to create a citywide police-community relations program using the All Stars' performance-based model of development.
Join us to build this program! To make a contribution to support Cops & Kids and the Newark expansion, click here.
To learn more about Operation Conversation: Cops & Kids and how to get involved in Newark, contact Sam McKenzie at (973) 856-6698 or smckenzie@allstars.org