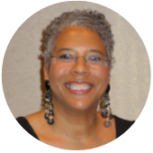 Pamela A. Lewis
Vice President / Youth Programs and Center for Youth Program Expertise
About
Ms. Lewis began volunteering with the All Stars Project in 1984 and joined the staff to direct its youth work in 1990.  She is the Vice President/Youth Programs, Center of Youth Program Expertise, providing expert guidance and training to ASP youth program staff nationally, and she serves as the Director of the All Stars Project of Bridgeport.
Over the last three decades Ms. Lewis has been a driver of the All Stars nationwide growth and impact, and has become one of the country's leading youth organizers and innovators. During her tenure as VP of Youth Programs, the ASP expanded beyond New York City's five boroughs to Newark, NJ; the San Francisco Bay Area, CA; Chicago, IL; Dallas, TX; and most recently Bridgeport, CT.  Ms. Lewis has spent thousands of hours organizing on street corners, knocking on doors of housing projects, and speaking at schools and churches. She has worked with tens of thousands of young people from all over the world, supporting their growth and teaching them to perform in new ways to become builders of their classrooms, communities and countries.
Ms. Lewis has been a member of the Castillo Theatre's acting ensemble in New York City since 1984, where she has appeared in scores of plays and musicals, including a one-woman country music show, Kansas on My Mind.  Ms. Lewis has appeared on television and radio including NPR, News 12-TV Connecticut, WNYC-TV "Heart of the City," WNBC-TV "Four Stories" and "Positively Black"; CNN "Evening News"; and PBS documentaries, America Beyond the Color Line, produced and hosted by Henry Louis Gates, Jr., and The Promise of Play, produced by the Institute for Play.
Pamela A. Lewis is an actress and vocalist, with a bachelor's degree in theatre arts from the University of Kansas.

Help set the stage for a young person to grow.