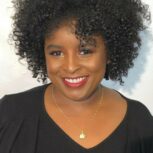 Kaiya Harris Thompson
Director, Development Coaching
About
Kaiya is the Director of Development Coaching, a program she was instrumental in growing from a pilot to one of our most successful national programs, and she is a member of the All Stars Project's Senior Leadership Team. In her role, she is responsible for the recruitment of adult volunteers and youth participants, the training of coaches and preparation of youth participants, and the design of the program. In her prior role as Associate Executive Director of the ASP of the SF Bay Area, she was responsible for the production and growth of the Development School for Youth, whose program enrollment increased 200% and corporate partner engagement by 100% during her first year at All Stars. Kaiya is also a member of the All Stars Project's Council of Grassroots Organizers, a leadership body working directly with the CEO, which is responsible for growing and deepening the ASP's grassroots impact in poor communities across the nation.
Prior to joining the ASP in 2019, Kaiya worked in community and public health education, served as a public school teacher in some of New Jersey's poorest communities, and was a successful field organizer for the 2012 Obama in America campaign. A native of Asbury Park, NJ, Kaiya received her B.S. in Public Health from the Richard Stockton College of NJ.
Help set the stage for a young person to grow.