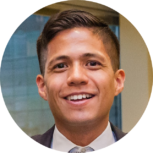 Patricio Delgado
Senior Director, Corporate and Foundations Relations
About
Pat is the Senior Director of Corporate and Foundation Relations, is a member of the Senior Leadership Team and works closely with the Vice President of Development on creating funding and engagement strategies for corporate and foundation involvement with the ASP. After meeting the ASP as a member of the Afterschool Development Working Group in Newark, Pat was hired in 2015 as a Fundraising Manager for the ASP of NY. He later served as a Fundraising and Senior Program Manager in NJ, where he worked closely with RBC, Fidelity, Goya and other key corporate partners on bringing the Development School for Youth to his hometown of Jersey City, New Jersey.
Pat also served as Business Development Director for DoSomething.org from 2018-2019, before returning to the ASP to assume his current position. Pat received his Bachelor's Degree from Dartmouth College, with a major in Psychology.
Help set the stage for a young person to grow.