Join us on Thursday, November 21st for All Stars Project of New Jersey's 2019 annual Benefit Dinner! Celebrate the partnerships that make our mission to transform the lives of youth and poor communities a success for New Jersey's inner-city young people and business leaders.
Amongst the passionate community and business leaders being celebrated this year, we are pleased to honor Thomas R. Carragher, Executive Vice President of Savills! Savills has been a transformative partner of the All Stars Project of New Jersey, financially sponsoring internships, workshops and experiences for New Jersey's inner-city youth.
All Stars Project of New Jersey features the business and leadership training program Development School for Youth, which operates in Newark and Jersey City, the All Stars Talent Show Network where young people perform in and produce Talent Shows in their neighborhoods, and the innovative Operation Conversation: Cops & Kids, a police-community relations program which launched in Newark in 2017.
Additionally, our Street Outreach teams of volunteers and staff members have connected with thousands of New Jersey families, business people, and community leaders in their neighborhoods to promote our free programs which are 100% privately funded by corporations, foundations and individuals just like you.
Thank you for your involvement in All Stars Project and we look forward to raising a glass with you on November 21st!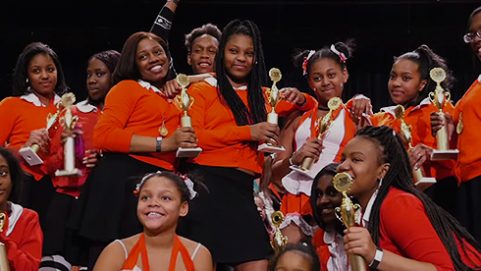 Help set the stage for a young person to grow.