Building Community, Spreading Opportunity, Creating Hope
Published by Dan Kelly
All Stars Project is proud to keep our virtual doors open, involving thousands of inner-city young people, corporate partners and caring adults across the country in growing Afterschool Development as a new way of engaging poverty, inequality and social justice. As always, All Stars is standing up for social progress, and bringing together diverse Americans to help our country to grow.
Please take a moment to read below how you can build community, spread opportunity and create hope for young people this fall.
TAKE ACTION!
BUILD COMMUNITY
Read. As our country searches for answers and approaches that respond directly to the anguish that so many Americans are feeling, we are proud to share three leadership statements from the All Stars Project and our Business and Philanthropic leaders.
SPREAD OPPORTUNITY
Be a Development Coach. Support a young person's growth by joining our Development Coaching program, where you will be matched to a current or recent graduate of the Development School for Youth, All Stars Talent Show Network, or Youth Onstage! and support their development this fall. Click here to learn more, and to sign up!
Attend our virtual free events. Visit allstars.org/event to find an upcoming event, class or workshop, and connect with people like you who are passionate about inner-city youth development.
CREATE HOPE
Donate. Help transform the lives of inner-city youth and poor communities across the country. $76 funds a single young person in our programs this fall.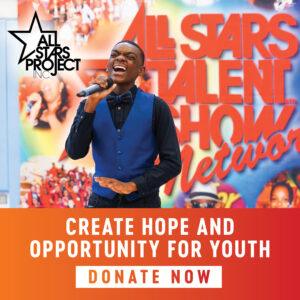 Stay Connected. Sign up for our mailing list and be the first to hear about All Stars updates and engagement opportunities.
And don't forget to follow us on social media to see how your support is making a real-time impact on the lives of young people across the nation!
Facebook    Twitter    LinkedIn    Instagram