We are pleased to share that our event is NEARLY SOLD OUT.  If you would like to attend but have not yet purchased tickets, please email or call sales director Adam Arango at aarango@allstars.org or 212-356-8457.
The Development School for Youth (DSY) program of the All Stars Project has opened the door to the corporate world for nearly five-thousand inner-city youth since launching in 1997. In the DSY, young people learn how to perform as professionals by partnering with business leaders over the 14-week program, which culminates in a six-week paid summer internships.
This transformational program allows young people to see and act on new opportunities in 6 cities across the country – New York City, Newark, Jersey City, Chicago, Dallas, and the San Francisco Bay Area – and has partnerships within many different industries.
On Wednesday, December 4th, we will bring together over 300 business leaders to celebrate and raise support for the Development School for Youth (DSY) at our annual Learning from Leaders Luncheon! We are proud to be honoring Ken Meyerson, Vice Chairman of CBRE, for his leadership and commitment to inner-city youth development.
Please join us in celebrating these special leaders, and help us make the DSY possible for many more young people across our city and country. If you have any questions about your donation or the event, please contact sales director Adam Arango at aarango@allstars.org or 212-356-8457 or executive sales director at jzak@allstars.org or 212-356-8441. Thank you for your support!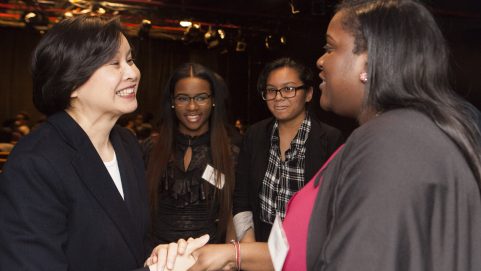 Help set the stage for a young person to grow.