Corporate Partnerships.
Partnering with inner-city youth to create development for all.
All Stars' life-changing approach to development has been championed and shaped by thousands of individual donors and hundreds of corporate partners, whose commitment has helped us achieve record success.  Top executives and business leaders provide unique industry insight to our young people, many of whom have never been exposed to corporate careers and believe that these types of careers are unattainable because of where they come from. By fostering a relationship between inner-city youth and corporate America we provide these young people an opportunity to connect to and be a part of the world in ways they never have, and to see new opportunities for lives, their families and their communities.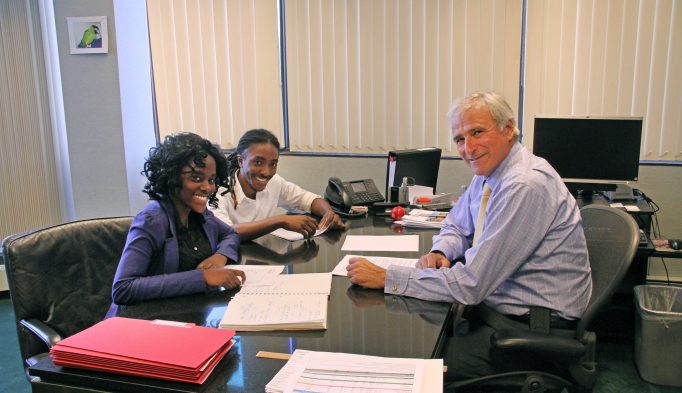 The DSY internship is an opportunity for graduates of the program to continue to grow in their ability to navigate and perform in the professional world.  Sponsoring companies are asked to provide both skill and interpersonal development opportunities. Past interns have provided general administrative support, contributed to research projects and social media campaigns, assisted with meeting and event planning, and more.
Internships run for 6 weeks from July 5 – August 11
Internships are full-time from 30-40 hours
Minimum salary of $18/hour, which is paid directly to the intern
The internship commitment includes a $1,250 per-intern sponsorship donation to support the placement, onboarding, and prep of intern(s) and supervisors. This amount is 100% tax deductible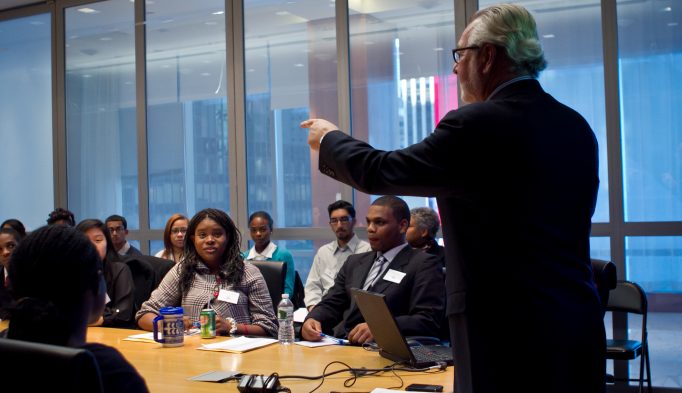 Business leaders conduct leadership development workshops in their companies, which helps prepare inner-city youth to enter the professional workforce, pursue educational opportunities and face challenges in new ways. Today, 180 companies across America, including MetLife, EY, Viacom, PSEG, PwC, Equity Residential and Silicon Valley Bank, are participating in our involvement philanthropy through the DSY, giving millions of hours of personal time to share their lives, expertise, and workplaces with some of our nation's most marginalized and forgotten young people.
Every year hundreds of corporate professionals are also involved in the DSY as Program Associates, hosts of mock job interviews, host trainers, and workshop leaders. Interested in working with our young people? For more information about how you and your company can get involved contact:
New York:  Jacqueline East-Ross or call (212) 356-8423
New Jersey:  Shadae McDaniel or call (973) 856-6693
Chicago:  Meghan Coen or call (312) 994-3105
SF Bay Area:  Kaiya Harris Thompson or call (415) 986-2568
Dallas:  Antoine Joyce or call (214) 382-5891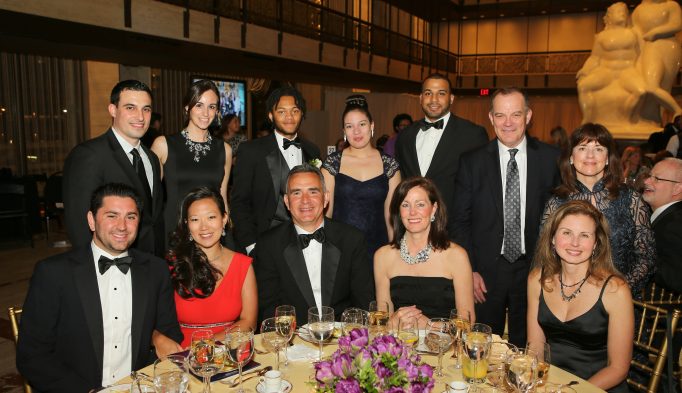 Every year, more than 100 companies across the country invest their philanthropic support into the All Stars Project. All Stars offers corporate sponsorship opportunities in all six of our cities. Each year, we host benefit luncheons and dinners across the country where companies sponsor tables, electronic journal ads, and/or are recognized as corporate partners at the events. By making a contribution, your company will support inner-city youth to grow new skills and see new paths and possibilities for their futures.
To learn more about corporate sponsorship opportunities, contact Jenny Zak at jzak@allstars.org.
"The All Stars Project helps young men and women develop the self-confidence and skills to achieve success… Our corporate mission is to make a difference in the communities we serve. And, by supporting this great organization, Investors Bank and our charitable foundation are assisting young people to reach their goals."
Kevin Cummings, President & CEO, Investors Bank
"It has really been a great privilege to be an All Stars contributor and supporter since 2006. Ernst & Young is very committed to supporting and partnering with the All Stars to open up new pathways for opportunity for young people growing up in communities where they don't have as many opportunities. As a firm, we really believe in giving back, and we get so much from participating in and building the All Stars programs and developing young people. I am proud that we have sponsored over 130 interns from the Development School for Youth."
Kate Barton, Global Vice Chair, Tax Services, Ernst & Young
Help set the stage for a young person to grow.