Scott Flamm Center for Afterschool Development • New Jersey, NJ
9:00AM
Event Details
Join afterschool practitioners, policymakers, academics, corporate leaders, and thought leaders as we engage in conversations and explore ideas/strategies for creating a new culture of Afterschool Development.
Plenary panels with thought leaders, youth participation, networking activities and lunch are on the agenda.
Keynote Presentation:
David J. Chard, Ph.D., Dean ad interim and Professor, Boston University Wheelock College of Education and Human Development
Click the below invitation to RSVP!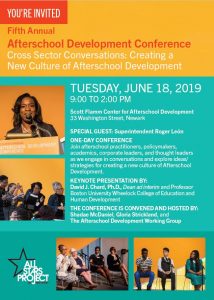 Where
33 Washington Street, Suite 100, Newark, NJ 07102
Map it
Contact
Stephanie Cathey
(973) 856-6697
scathey@allstars.org

Help set the stage for a young person to grow.