Event Details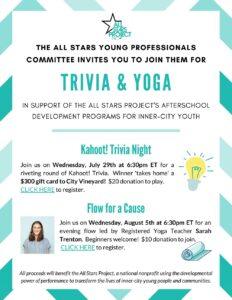 Join the All Stars Young Professionals committee on Wednesday, July 29th at 6:30pm ET for an evening flow led by Registered Yoga Teacher Sarah Trenton. Beginners welcome!
Admission is a $10 donation per person. All proceeds directly benefit the All Stars Project and our young people!
CLICK HERE to register.
If you can't make it, but would like to support the All Stars Young Professionals in reaching their goal, you can visit their giving page here.
Where
See Zoom Sign Up Link
Map it
Contact
Emily Munguia
emunguia@allstars.org
Help set the stage for a young person to grow.