Harper High School • Chicago, IL
11:00AM
Event Details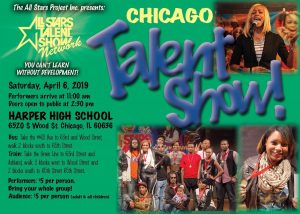 The All Stars Talent Show Network is returning to Harper High School on April 6th for a ONE DAY event! All Performers between the ages of 5 and 25 years old are welcome. Auditions start at 11am. The doors open up to the public at 2:30pm. Join us for this community event so that we call can have a transformative experience.
Performers: Registration fee for each performer is $5
Audience: Tickets are $5 per person (adults & all children)
Where
6520 S Wood St, Chicago, IL, 60636
Map it
Contact
Derrick Barnett
312-994-3104
dbarnett@allstars.org

Help set the stage for a young person to grow.