Event Details
Join our virtual internship campaign!
Following our spring DSY semester, we will develop a virtual 6-week Internship Program, providing corporate training opportunities for new and graduated students of the DSY, who will put their skills into practice in a virtual corporate setting.
For 23 years, over 5,000 graduates of our Development School for Youth (DSY) business and leadership training program have participated in life-changing paid summer internships hosted by over 450 partner companies. When COVID-19 struck last year, many corporate partners helped pilot new virtual internships, to ensure our young people still had these critical opportunities. Building on the success of last year's pilot, the All Stars is launching a national virtual internship campaign and we are asking all our corporate leaders and champions (no matter where your business is located) to support our youth this summer. View our 2021 DSY Virtual Internship Brochure to learn more!
Attend our DSY Virtual Internship Summit to learn more about how you can support inner-city youth this summer!
We invite you to attend our upcoming DSY Virtual Internship Summit on Thursday, February 25th, 12-1pm EST. There you'll have the chance to hear from youth speakers, participate in a lively discussion with corporate leaders about best practices from last year's pilot, and hear from special Keynote Speaker Ronald Reeves (Chief Diversity Officer, AIG).
If your company is interested in sponsoring interns this summer or learning more about where to get started, please register here for this informative and inspirational Zoom Summit today!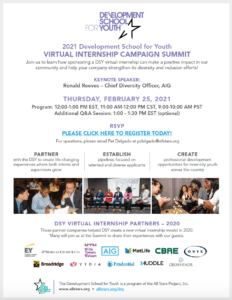 Help set the stage for a young person to grow.