All Stars Fall Benefits: A Success in Celebrating our Youth and Partners!
Published by Wanda Hall
After nearly three years of virtual engagements in all of our cities, the All Stars Project returned to in-person benefit events in a big way this fall season! Together with over 800 corporate, community, and youth leaders (including dozens of All Stars alumni!), our regional teams hosted in-person events in each of our All Stars cities – with each one celebrating the uniqueness and diversity of our supporters and mission across the country. And in all, we were able to raise an impressive total of $2.5 million in private support thanks to our caring champions and supporters, which will help ensure our programs remain free for our underserved youth across the country.
Below is a snapshot of our 5 All Stars events, highlighting the success of our city leaders and partners. Please enjoy and don't forget to check out the wonderful photos from each event!
All Stars Project of the San Francisco Bay Area
Hosted at the beautiful Presidio Golf Course in San Francisco, ASP of the San Francisco Bay Area hosted our 2022 All Stars Golf Classic and Fall Benefit. A golf outing that brought together 89 Bay Area leaders and guests, we were treated to a gorgeous day on the course, as well as incredible golf fashion from many on the green!
Thank you to our Co-chairs James Kaltenbach (Wells Fargo Bank), Jill Jarret (Benchmark Capital), and Fred Molfino (Parallel Advisors), and our amazing ASP of SFBA Board as we continue to create and build our presence and impact in the Bay Area!
All Stars Project of New Jersey
Early in November, the All Stars Project of New Jersey celebrated our historic Grand Opening Fall Benefit unveiling our new NJ Headquarters at the Gateway Center in Newark. This beautiful new performance and development space was officially opened to the public in style as we hosted over 200 caring NJ partners and leaders to our new space.
A big congratulations to our incredible NJ Honorees Ralph Izzo (PSEG), Andy Merin (Cushman & Wakefield), RBC Capital Markets (represented by John Thurlow), as well as our Co-chairs John Saraceno (Onyx Equities), Gus Milano (Hartz Mountain Industries), and Peter Bronsnick (Cushman & Wakefield), for helping ensure continued impact in the Newark and Jersey City communities.
Click here to read exciting articles about our grand opening from PSEG, Cushman & Wakefield, and ROI-NJ!
All Stars Project of Dallas
In true ambitious All Stars fashion, our teams decided to hold 3 Standing With All Stars Fall Benefits all in one week (incredible statement!) and our dynamic Dallas team got us started at the Joule Hotel on November 14 where we celebrated with 190 guests, danced to a live DJ, and were inspired by our wonderful youth speakers.
A special thank you to our Dallas Honorees Hill Feinberg (Hilltop Securities) and Harold Ginsburg (Southern Asset Service Corporation), and a Texas-sized thank you to our Co-chairs Greg Arnold (TAC), Hunter Hunt (Hunt Consolidated), Kim Kesler (KPMG), and Robert Maddox (RBC Capital Markets).
All Stars Project of Chicago
Our Standing With All Stars celebration made its way to the Windy City as we celebrated our impact and success in the Chicago community. Together with 159 guests and All Stars youth, we honored Sean Walsh, President of Walsh Construction and All Stars champion, who helped drive home the importance of being giving of yourself to those in need of support. And thanks to Sean and Co-chairs Bob Kurinsky (Driehaus Capital Management), Greg Mutz (AMLI Residential), Ben Nortman (Hilco Global), and Suzu & David Neithercut, our event was a true statement about our continued growth in Chicagoland!
Thank you to the entire Chicago community for showing up and showing out as we celebrated at the beautiful Venue SIX10 in honor of Sean and our Chicago youth.
All Stars Project of New York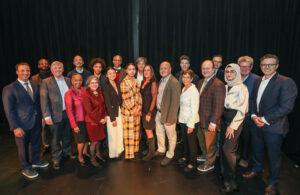 Finally, we wrapped up our fall benefit season where it all started, at our NY Standing With All Stars Fall Benefit! This year's NY benefit was spotlighted by Honorees Nancy Lazar (Piper Sandler) and John & Blakely Stinebaugh (Brookfield Asset Management), who have been caring and giving leaders and champions of our youth development work here at the All Stars. And together with our fantastic Co-chair Committee of Gary Benerofe (Mu Ventures), Mark Cicirelli (Elliott Managmeent), Jeff Hurwitz (Piper Sandler), Ken Meyerson (CBRE), Joe Peiser (Aon), and Rich Sokolow (Davidson Kempner Capital Management), our return to our National Headquarters on 42nd Steet in Manhattan was a success as we celebrated with over 265 corporate and community leaders—simply inspiring!
We also want to send a special thank you to our Underwriting and Platinum Sponsors: AIG, AMLI Residential, Brookfield Asset Management, Gene and Jerry Jones Family Foundation, Hilco Global, Hunt Consolidated, KPMG, Piper Sandler, PSEG, RBC Capital Markets, and TAC. Thank you for your investment in youth development across the country. And thank you to all our leaders, champions, and supporters for making this fall a truly special one.
Looking forward to continuing to create hope and opportunity in 2023—both virtually and in-person. Let's develop!