All Stars Gala: A Performance of Leadership Across the Country
Published by Caitly Reynoso
This year's marked the return of our in-person All Stars National Gala after 3 years of successful virtual events. Hosted at the beautiful Tribeca Rooftop in Manhattan, this year's event was a celebration of the remarkable impact of our philanthropic and volunteer communities in the lives of our underserved youth. Joined by over 300 enthusiastic in-person attendees and 200 virtual guests, our All Stars community came together to share in inspiring words and performances from our young people, and ensure that our life-changing programs remain accessible to underserved youth across the nation. The outpouring of support and generosity we witnessed at the event helped us to raise an astounding $2 million in private contributions, securing a brighter future for countless young lives.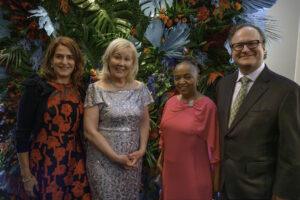 We extend our heartfelt congratulations to two honorees: first, to Kate Barton (Global Vice Chair, E), who received the prestigious Decade of Leadership Award in recognition of her unwavering commitment to our young people and her instrumental role in guiding our EY partnership. Through her exceptional leadership, this collaboration has become a shining example of corporate philanthropy at its finest. Additionally, we express our deepest admiration for Honoree Gloria Strickland (Senior Vice President / Chief Youth and Community Development Officer, All Stars Project) who was honored with a Lifetime Achievement Award for her remarkable 50+ years of passion and dedication to underserved communities. Kate and Gloria embody the spirit of exemplary leadership and are invaluable partners in our mission of youth development. We extend our heartfelt gratitude to both of them for their commitment to the growth and success of our organization and our young people.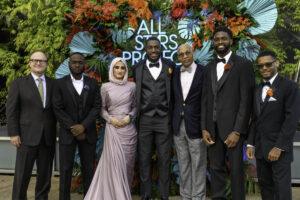 We would also like to extend a special thank you to our esteemed National Gala Co-chairs: Hunter Hunt (Hunt Consolidated), Maria Morris (MetLife), Robert Ross (Wells Fargo), Rich Sokolow (Davidson Kempner), and John Thurlow (RBC Capital Markets) and to our EY Honor Guard leaders: Abdul Ajani, Jay Fenlaw, Marc Ganz, John Gunn, Lisa Lim, Hank Neely, Colleen O'Neill, and Colleen Warner. Their remarkable leadership and dedication ensured that we received support from over 300 individual and corporate partners, making a profound impact on the success of this year's event and the lives of our young people.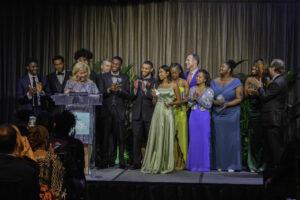 Our sincere appreciation also goes out to Robert Kraft and the New England Patriots Foundation for their invaluable support of Kate Barton's campaign as a $100,000 Platinum Sponsor. Your unwavering commitment and generosity have played an integral role in the realization of this year's achievement.
And if you weren't able to join us (or simply want to re-experience this year's inspiring event!), please visit our 2023 National Gala recorded livestream to watch this year's extraordinary show!
As we reflect upon the incredible achievements of this year's Gala, we invite you to consider what your "performance of leadership" will be and partner with us to create hope and opportunity in the lives of our young people.