ASP of Dallas Continues to Build Bridges at Fall Luncheon!
Published by lhorn@allstars.org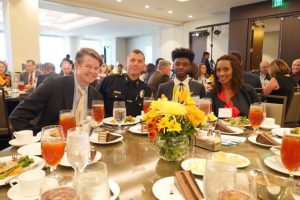 The Second Annual Building Bridges Across Dallas Luncheon was held on Tuesday, November 15th at the Westin Dallas Downtown. The ballroom was filled with 330 of our closest supporters, corporate leaders, young people, and friends.  It was a wonderful celebration demonstrating how we are creating development and opportunity for young people growing up in the poorest communities in Dallas. The event raised $490,000 in private funding!
Two ASP of Dallas alumnae, Adrianna Traylor and Autumn Bunker, inspired everyone by sharing their personal stories of development and how the All Stars Project has changed their lives.
"I now feel comfortable going into the workforce because I know that I have been given the leadership, communication, and social skills that are required to succeed" – Autumn Bunker, 17 year old DSY graduate.
At the event, we honored three founding ASP of Dallas partners, Dr. David Chard, President, Wheelock College; Kim Kittle, SVP, Bank of Texas; and David White, VP, Business Solutions, Hunt Power Solutions, for their work in Dallas. These special champions serve on the Dallas board, host development workshops, and sponsor summer internships.  Each of their contributions are positively impacting the city's young people living in poverty in Dallas.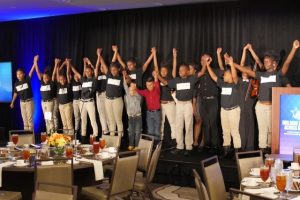 ASP of Dallas City leader, Antoine Joyce also shared our ambitious vision for the future, which includes partnering with the Dallas Police Department (DPD) on our new Performance of Police-Community Relations in Dallas (Cops & Kids) and launching an expansion of the Development School for Youth (DSY) which will double the number of graduates and internship placements.
The All Stars Talent Show Network (ASTSN) also presented a mini talent show that brought the audience to their feet in a standing ovation! Korius Loftis, Miguel Lira, the Los Reyes boys, Francisco and Unique Lira, and Step 216 represented the diverse talents showcased in ASTSN.