ASP of Dallas first competition talent show in South Dallas
Published by Christina DiChiara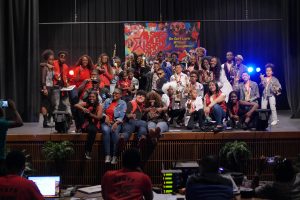 On May 5th, in partnership with the Dallas Independent School District (DISD) Police Department, All Stars Project produced our first competition talent show in South Dallas at Lincoln High School. Two hundred and sixty-eight community members joined us, including volunteers, audience members, and police officers. There were 26 performance acts with 29 performers.
For ten weeks leading up to the show, we walked through poor communities in South Dallas and invited everyone we met to join us for the talent show, whether as a volunteer, performer, or audience member. The young people came to an audition where everyone made the show! Then, performers, volunteers, and police officers participated in a development workshop where they played performance activities to ease their anxiousness.
In the All Stars Talent Show Network, young people use the stage to express themselves in many different forms, such as dance, song, rap, poetry, contemporary, and more.
Stay tuned for the next ASP of Dallas and DISD police event. If you would like to participate you can visit https://allstars.org/get-involved or contact Dee Smith, Program and Outreach Coordinator at 214-484-2112 ext. 107 or dsmith@allstars.org.