ASP of Dallas organizes Community Action Day Pilot in South Oak Cliff
Published by Megan Truman
On Saturday, November 19th, the All Stars Project of Dallas along with education and non-profit leaders, corporate partners, Dallas Police Department (DPD) officers and young people, hit the streets for the pilot for Community Action Day, a community organizing activity designed to engage everyone in South Oak Cliff in conversations to help communities grow.
We conducted a survey, had conversations about what's important in the community, and invited everyone to participate in the All Stars Talent Show Network's South Oak Cliff Talent Showcase this fall.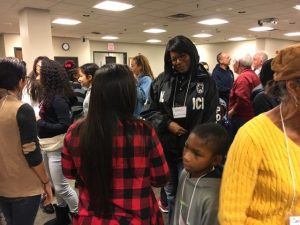 We had 32 volunteers participate with us, including 14 young people and 7 police officers.  119 people in South Oak Cliff were given a survey, which included questions about what was missing in the community, ways to positively impact and create change, and how non-profits, like the All Stars Project, can be a part of it.
Community members were excited to have their voices heard and our outreach teams shared their surprise at how quickly people opened up to express what they think would have a positive impact in the poor community. Most notably, many spoke about the ongoing racial problems in Dallas, which they feel needs to be addressed. Community Action Day created an environment where people from very different backgrounds could come together to create a new kind of conversation and transforming their relationship.