ASP of NJ goes to the VMAs!
Published by Christina DiChiara
On Monday, August 26th, 25 young people and staff from the All Stars Project of New Jersey attended the 2019 Video Music Awards at the Prudential Center in Newark. Amy Doyle, Executive Vice President and General Manager of MTV, VH1, CMT, and Logo and a member of the ASP National Board of Directors provided this opportunity for our young people to perform as "Pit Fans." A once in a lifetime event, ASP youth and staff stood ten feet from the stage and experienced an epic night full of fun, laughter, performance and appreciation.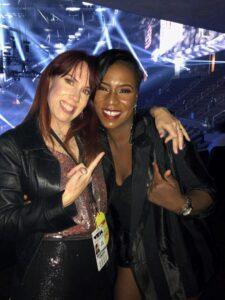 ASP national board member Amy Doyle with ASP of NJ City Leader Shadae McDaniel