Chicago corporate partners step up to lead our first VIRTUAL DSY workshops
Published by Dan Kelly
On April 7, our partners at USG facilitated our first virtual DSY corporate workshop on personal branding where students had an opportunity to work in breakout groups to discuss the strengths, values and activities that define who they are as people. They then worked with the USG team on creating "elevator pitches" based on their defining attributes (see below). Special thanks to Debra Saturley, Gary Abrahams, Jodie Arenz, Jessica Kurek, David Woodcock, Teri McElrath, Jim Adzema and Leah Washburn for leading this great workshop!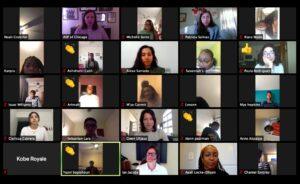 "We are a group of students that help others by spreading positivity. Our adaptability, open-mindedness, and caution allow us to understand various perspectives."
"We complement each other by considering each other's feelings and working hard to adapt, all while growing individually, as a group and as a community."
The next afternoon, students took part in a workshop led by Equity Residential (EQR). After hearing from the Equity team about the company's history, business and values, they were able to ask questions about the cost of housing, how EQR is managing properties during the pandemic, what education was needed to work at the company and more. At the end, all agreed that, while they had never considered working in real estate, the conversation helped make it seem like more of a possibility!  Shout out to ASP of Chicago board member Catherine Carraway and colleagues Tanya Foster, Karla Schaefer and Lynsey Myers for showing our young people the opportunities within the real estate world!
We are also inspired by our partners who have stepped up to volunteer virtually with our students this month.  We have 75 DSY Virtual Volunteers who are starting to partner one-on-one with our young people to help develop their professional skills, including resume writing, phone and video interview skills, and developing their LinkedIn profiles!