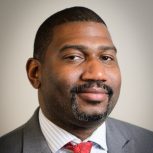 Antoine Joyce
Vice President / City Leader, ASP of Dallas
About
As Vice President and City Leader of the All Stars Project of Dallas, Antoine Joyce creates and executes cutting-edge program partnerships and collaborations as part of the ASP's Afterschool Development Initiatives and Social Development Partners. A seasoned grassroots leader, who has successfully introduced Afterschool Development to a diverse array of public and private partners, he also provides hands-on training to ASP leaders throughout the country.
Under his leadership as City Leader, the ASP of Dallas, which he founded in 2013, has emerged as one of the most successful bridge-building operations in the country. A member of the ASP senior leadership team and a nationally respected grassroots leader and advocate for the poor, Mr. Joyce has helped advance the organization's national strategic growth through a series of Dallas-based initiatives. He is a member of the All Stars Project's Council of Grassroots Organizers, a leadership body, working directly with the CEO, which is responsible for growing and deepening the ASP's grassroots impact and expanding the influence of Afterschool Development initiatives and strategies in poor communities across the nation.
In Dallas, he also serves as a member of the Dallas Thrives Board, Dallas County Promise Alignment Council, South Oak Cliff High School NAF Academies Advisory Board, the Truth, Racial Healing and Transformation Steering Committee and serves as the Racial Healing Committee chair. Mr. Joyce is also a Mayor's Star Council alumnus and a mentor with Judge Amber Givens-Davis' Empowerment Program.
Mr. Joyce began as a talent show volunteer and performer in New York City and has been an All Star since 1991.
Help set the stage for a young person to grow.