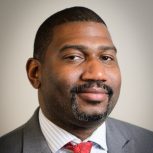 Antoine Joyce
City Leader / ASP of Dallas
About
Under the leadership of City Leader Antoine Joyce, the ASP of Dallas has emerged as the fastest growing – and one of the most successful bridge-building – All Stars operations in the country. A member of the senior leadership team and recognized as a respected grassroots leader, organizer and advocate for the poor in Dallas, Mr. Joyce is responsible for leading the strategic growth of the ASP through a series of initiatives designed to build the field of afterschool development in "The Big D."
Since ASP of Dallas launched in 2014, it has touched more than 5,000 young people and their families in the poor communities of South Oak Cliff and West Dallas. Under Mr. Joyce's leadership, the ASP of Dallas has expanded its partnerships with Southern Methodist University, the Dallas County Community College District and other education and non-profit organizations. Mr. Joyce has also played a key role in initiating and expanding police-community relations programs with the Dallas Police Department.
Mr. Joyce is regularly invited by civic and community leaders to take part in conversations about how to engage poverty in one of the country's wealthiest cities. He is a member of the Dallas County Promise Alignment Council, The School Zone, South Oak Cliff High School NAF Academies Advisory Board and the Truth, Racial Healing and Transformation Steering Committee. Mr. Joyce is also a Mayor's Star Council alumnus and a mentor with Judge Amber Givens-Davis' Empowerment Program.
After years of performing and volunteering in All Stars programs, he joined the ASP staff in 1997. His perspective and wealth of experience as someone who has grown up in the ASP has been invaluable in developing the ASP in Dallas, Newark and the San Francisco Bay Area. In 2008, he became a development officer and co-led a team of eight that raised $1.5 million for All Stars programs.
A gifted performer and public speaker, Mr. Joyce founded a music management company in 2004 that produced a 20-country tour for DJ Grandmaster Flash. Mr. Joyce grew up in the Bedford-Stuyvesant neighborhood of Brooklyn.

Help set the stage for a young person to grow.