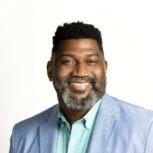 Antoine Joyce
Vice President / City Leader, ASP of Dallas
About
One of the country's most successful grassroots leaders and advocates for the poor – and a long-time performer on and off stage – Vice President and City Leader of the All Stars Project (ASP) of Dallas, Antoine Joyce has led the creation of cutting-edge youth and community development programs throughout Dallas and nationally. He is also a dynamic and passionate bridge-builder who has introduced Afterschool Development to a diverse array of public and private partners, fostering innovative partnerships and collaborations through ASP's Afterschool Development Initiatives. Under his leadership as City Leader, the ASP of Dallas, which Antoine helped found in 2013, now reaches 5,000 youth and their families each year and raises $1.2 million annually. He directs a staff of nine.
Antoine is a member of the ASP senior leadership team and the Council of Grassroots Organizers, which works directly with the ASP CEO to grow and deepen the ASP's grassroots impact and expanding the influence of Afterschool Development initiatives and strategies in poor communities across the nation. Antoine plays a key role in advancing the organization's national strategic growth through a series of Dallas-based initiatives and, together with CEO Gabrielle Kurlander, is a creator and leader of the ASP's newest initiative, Operation Conversation.
A sought-after leader, Antoine serves as board co-chair of the Dallas Truth, Racial Healing and Transformation Steering Committee, serves as the Racial Healing Committee chair and Chair's South Oak Cliff High School NAF Academies Advisory Board. Previously Antoine has been a member of the Dallas Thrives Board and Dallas County Promise Alignment Council.  Mr. Joyce is also an alumnus of Leadership ISD (2015), Mayor's Star Council (2017), Stagen ILP (2020), Leadership Dallas (2022) and a mentor with Judge Amber Givens-Davis' Empowerment Program.
Other accomplishments include an invited presentation at TEDxSMU, keynote address at the NYC ACS Workforce Institute Conference; interview with the Communities Foundation of Texas 360 Podcast; several articles and op-ed pieces in the Dallas Morning News and the teaching of a graduate level seminar at Georgetown University.
Born and raised in Bedford-Stuyvesant, Brooklyn, Antoine Joyce has been an All Star since 1991. In addition to his involvement with ASP, Antoine also spent several years touring the world with hip hop legend Grand Master Flash. He is also a talented theater director, popular DJ, loving husband and proud father of two.
Help set the stage for a young person to grow.