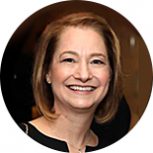 Bonny L. Gildin, Ph.D.
Vice President / Afterschool Development Research and Policy
About
As Vice President/Afterschool Development Research and Policy, Bonny Gildin, Ph.D., is a member of the Senior Leadership Team and works closely with the CEO and president to advance the organization's afterschool and education policy initiatives.
Over the last five years, she spearheaded a five-year program evaluation of the All Stars Project in partnership with the Center on Research and Evaluation at Southern Methodist University. The project included the creation of a customized evaluation toolkit to provide quantitative and qualitative evidence of the outcomes of All Stars programs. Dr. Gildin has also established numerous partnerships and thought leadership alliances, including Stanford University (Dr. David Grusky), Montclair State University (Newark Montclair Urban Teaching Residency Program and Montclair State University Department of Family and Child Studies), and the Erikson Institute (Dr. Robert Halpern), among others. In addition, Dr. Gildin conceptualizes and leads a series of online courses and webinars for afterschool and youth development professionals, and she oversees the organizing and convening of grassroots Afterschool Development conferences, roundtables, and working groups in Newark, Chicago, and Dallas.
During her 23-year tenure at the ASP, Dr. Gildin has built broad private support and involvement networks throughout New York City, Newark, Chicago, and San Francisco, raising more than $22 million and generating tens of thousands of hours of time and talent investment from the private sector.
During the 1990s and early 2000s, she worked with ASP cofounders to articulate and advance the core concepts and practices of afterschool development and to bring these into education policy dialogues in New York City as well as nationally. Her publications include Afterschool: Growth! (The All Stars Way) (Dec 2014, National Society for the Study of Education, Volume 113, Issue 2, pp. 425-444) and, with Cindy Onore, A Community–University Partnership to Develop Urban Teachers as Public Professionals (Jan 2013, Moving Teacher Education into Urban Schools and Communities: Prioritizing Community Strengths, Jana Noel (ed.)).
Prior to working at the All Stars, Dr. Gildin taught linguistics at the State University of New York at Stony Brook and in the Graduate School of Education at Rutgers University. She grew up in suburban Chicago, received a Bachelor of Arts in French from Grinnell College, and earned a Master of Arts, Master of Philosophy, and Ph.D. in linguistics from Columbia University.
Help set the stage for a young person to grow.