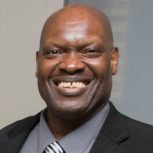 David Cherry
City Leader, ASP of Chicago
About
David Cherry is City Leader of the ASP of Chicago and a member of the Senior Leadership Team of the All Stars Project. His extensive and first-hand knowledge of the social issues in poor African-American and Latino communities, particularly those confronting inner-city youth, has been invaluable in his work to replicate the All Stars Afterschool Development model in Chicago and to provide input and expertise in shaping the organization's strategies nationally.
Since the launch of the ASP of Chicago in 2007, David has successfully implemented two of the All Stars leading programs: the All Stars Talent Show Network and the Development School for Youth. He has worked tirelessly to build the All Star Project's trademark partnership between business professionals and inner-city youth – a key to the growth of the Development School for Youth, and all of our programs in America's third largest city. David is also a leader in convening community leaders, educators, innovators and others in Chicago's afterschool arena. He is a key player in establishing the Center for Afterschool Development in Chicago, an important national growth initiative for the All Stars.
For more than 25 years, David, a highly skilled and dedicated community organizer and activist, helped diverse communities develop around issues of democracy, social justice and inclusion. Prior to joining the All Stars Project, David worked for Pitney Bowes and was office services supervisor for the Chicago law firm, Neal, Gerber & Eisenberg, LLP.
Born in Harlem, David grew up in the South Bronx just a couple of blocks from the once-infamous Charlotte Street neighborhood, a national symbol for the poverty and devastation of America's inner cities in the 1970s.
Help set the stage for a young person to grow.