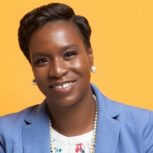 Shadae McDaniel
City Leader / ASP of New Jersey
About
A member of the senior leadership team, Shadae McDaniel serves as City Leader of the ASP of New Jersey, where she leads the team responsible for innovation and growth, works closely with the ASP of New Jersey board on strategic advancement and oversees the planning and execution of all programming, operations, non-profit partnerships and community-building activities.
Passionate about performance and ensemble building from an early age, Ms. McDaniel first fell in love with the All Stars when she attended an Afterschool Development conference at the Scott Flamm Center in 2014 and became an active member of the Afterschool Development Working Group. The ASP hired her as a senior program manager in 2015 and promoted her to Director of Youth Programs six months later. In this capacity, she worked closely with founding City Leader Gloria Strickland to expand the influence and impact of afterschool development in Newark, Jersey City and throughout the state.
Ms. Mc Daniel played a key role in growing the ASP across New Jersey through the expansion of the Development School for Youth to Jersey City, the launch of Operation Conversation: Cops & Kids (in partnership with the Newark Police Department) and other program initiatives. She continues to lead the Afterschool Development Working Group, which convenes community leaders, front-line practitioners, educators, innovators and others to help advance the impact and influence of afterschool development across the state.
Prior to the ASP, she worked for 15 years in the local, state and federal non-profit sector, where she created and provided innovative community-based education to thousands of young people and their families in underserved communities. Most recently, she was a senior program manager with the New Jersey SNAP-Ed program at Rutgers University.
A dancer for much of her life, Ms. McDaniel also co-founded a non-profit mentoring program that uses dance and other expressive arts to help young people build self-esteem and community.
After earning a bachelor's degree in health sciences at Howard University, Ms. McDaniel received her master's of social work from Rutgers University. She lives in West Orange, New Jersey, with her husband and young daughter.
Help set the stage for a young person to grow.