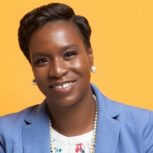 Shadae McDaniel
Vice President / Director of Strategic Initiatives / Director, ASP of New Jersey
About
Shadae McDaniel is Vice President/Director of Strategic Initiatives/Director, All Stars Project of New Jersey (ASP of NJ), an epicenter of development and partnership for tens of thousands of young people, families and partners from the business, education, cultural and nonprofit communities in Newark, Jersey City and across the state.
As a member of ASP's Senior Leadership Team, Ms. McDaniel works closely with regional board members on advancing ASP of NJ's strategic impact and oversees the planning and execution of all programming, operations, nonprofit partnerships and community-building activities.
Under her leadership, ASP forged a partnership with John Saraceno and Onyx Equities that led to ASP being invited to create a Campus for Performance and Development (CPD) at the Gateway, Newark's most prestigious business complex. In addition to giving youth of color a home in the heart of Newark, the CPD and its state-of-the art program and outreach center will build bridges between youth and the tens of thousands of business professionals and other adults who pass through Gateway each day.
Ms. McDaniel also partners with ASP's VP/Development on carrying out local fundraising efforts and stewarding relationships with local board members and leading philanthropic partners. Additionally, she directs the Development School for Youth (DSY) nationally and provides leadership to the Development Coaching program.
Ms. McDaniel first met ASP when she attended an Afterschool Development Conference in 2014. A year later, she was hired by ASP of NJ as a Senior Program Manager and promoted to Director of Youth Programs six months later. Ms. McDaniel was named City Leader in 2020 and Director in 2023. In all of these roles, she has played a key role in growing ASP across the Garden State through the expansion of the DSY to Jersey City and the launch of Operation Conversation: Cops & Kids in partnership with Mayor Ras Baraka and the Newark Police Division. Ms. McDaniel also leads the Afterschool Development Working Group, which brings together community leaders, front-line practitioners, educators, innovators and others to help advance the impact and influence of afterschool development across NJ.
Passionate about performance and a dancer for much of her life, Ms. McDaniel spent the 15 years before joining ASP working in the local, state and federal nonprofit sector. There, she provided innovative community-based education for thousands of young people and their families in underserved communities.
Ms. McDaniel is listed as one of ROI-NJ's 2020 Influencers: People of Color and was named by Newark Venture Partners as one of the 10 Bad Ass [Girl] Bosses of Brick City. Ms. McDaniel was featured by InnovationsoftheWorld.com and interviewed by Steve Adubato—one of the most respected media voices in NJ and nationally—as part of his UNCUT "Confronting Racism" series. Ms. McDaniel earned a bachelor's degree in health sciences at Howard University and a master's degree in social work from Rutgers University. She lives in West Orange with her husband and young daughter.
Help set the stage for a young person to grow.