The All Stars Project of Dallas Celebrates the Legacy of Martin Luther King Jr.
Published by Christina DiChiara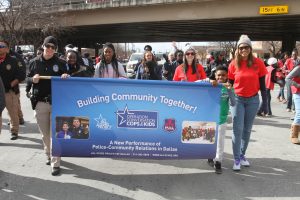 On January 15, 2018, the All Stars Project of Dallas kicked off the year by walking in the Martin Luther King Jr. Parade along with the Dallas Police Department (DPD) and their Police Activities League (PAL). A total of 113 people marched with the All Stars, including 20 adult volunteers, 61 All Stars and PAL young people, and 32 DPD officers. Everyone involved enjoyed passing out fliers and candy as they organized the South Dallas community around the All Stars Dallas program, Cops & Kids: A New Performance of Police-Community Relations in Dallas.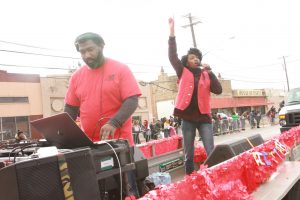 Along the parade route, the mobile talent show pumped up the thousands in attendance with energy filled performances featuring All Stars Talent Show Network (ASTSN) alumni performers, Andy B and Renaissance Kid who had the crowds singing to their original rap song "We Will Be Alright"; Sierra sang a crowd favorite, "Diamonds" by Rhianna and Ronda Baker performed the classic song "Stand By Me". All Stars and DPD passed out a total of 2,500 fliers. The young people shared how excited they were to walk alongside Dallas officers, demonstrating the bridges being built between officers and the community. The All Stars invited the on-lookers to join 2018 program activities, including our 1st competition talent show with the audition and show to take place in March where the grand prize-winner will win a $500 cash prize.
Here are a few responses MLK Jr. Parade participants had about their experience: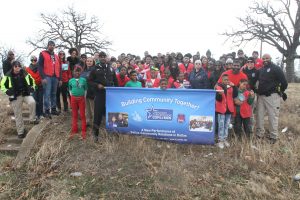 "As a performer, walking in the MLK parade on Monday, it was an experience for me I had never sung in the parade. I just went for it I felt like it was about togetherness, sisterly and brotherly love, with everyone being involved and how we are supposed to treat each other and support each other, not just for us, but also for our community. The Works of Martin Luther King Jr., also an experience for me, because as a performer, we all make mistakes in songs, but I still kept on going. I felt everyone's connection, every one's Spirit, everything was very peaceful. I felt the love in the air and I was honored to be a part of the parade. It was a learning experience. I never stop learning!" –Rhonda Baker, ASPD Performer
"As an African American officer, who has bi-racial children, this has shown that no matter who you are and what you look like we where all created equally. I think that what Dr. Martin Luther king Jr. stood for was equality for all and nearly 50 years ago to his death I think there is still room to improve. My motto is to treat all with the descent and respect they deserve no matter what they look like." –Ira Carter, DPD Detective
Stay tuned for more information on how you can help Build Community!