St. Francis de Sales • New York, NY
11:00AM
Event Details
An audition for young people between the ages of 5 to 25 who are interested in, and have a passion for, performing – singing, dancing, rapping, stepping, whatever it is – come out and shine like that star we all are!
Admittance is $5.00 per person.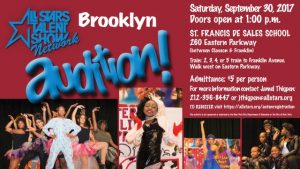 Where
260 Eastern Parkway, Brooklyn, New York, NY, United States
Map it
Contact
Jamel Thigpen
212-356-8447
jthigpen@allstars.org

Help set the stage for a young person to grow.