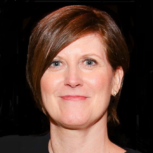 Christina DiChiara
Chief of Staff, Office of the CEO
About
Christina DiChiara is Chief of Staff to the CEO of the All Stars Project and a member of the Senior Leadership Team. Her responsibilities include ensuring high-level day-to-day operations in the Office of the CEO and serving as corporate secretary to the board of directors. She works closely with the CEO and board and committee chairs on board governance and administrative functions, and she directs the production of quarterly board meetings. Additionally, she works in partnership with the CEO and the President to develop and execute a marketing, communications, and public relations strategy that advances the organization's public-facing presence.
Christina joined the Office of the CEO as Director of Special Projects in 2002 before becoming Chief of Staff in 2015. In these capacities, she oversaw the production of the organization's largest fundraising event – the All Stars national gala benefit at Lincoln Center – for 20 years. After working with All Stars as a volunteer fundraiser for five years, Christina was hired full-time in 1997 to manage the organization's grassroots fundraising operation.
A native of Brooklyn, New York, Christina received her Master's degree in social work from the University of California, Berkeley.
Help set the stage for a young person to grow.